Attendance Matters!
SCUSD FAIR SATURDAY 17, 2022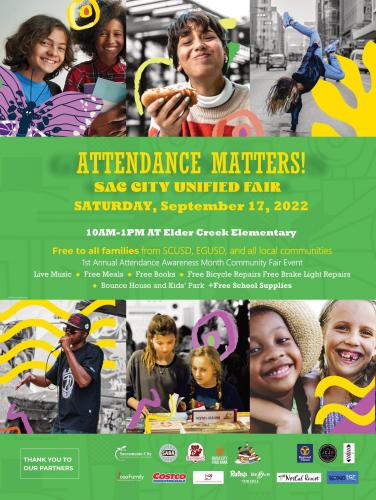 ATTENDANCE MATTERS! SAC CITY UNIFIED FAIR

SATURDAY, September 17, 2022 10AM-1PM AT Elder Creek Elementary

Free to all families from SCUSD, EGUSD, and all local communities!

1st Annual Attendance Awareness Month Community Fair Event

Live Music ◆ Free Meals ◆ Free Books ◆ Free Bicycle Repairs Free Brake Light Repairs ◆ Bounce House and Kids' Park +Free School Supplies

THANK YOU TO OUR PARTNERS *While supplies last

PLEASE SEE ATTACHMENT FLYER FOR MORE INFO!