ATTENDANCE AWARENESS MONTH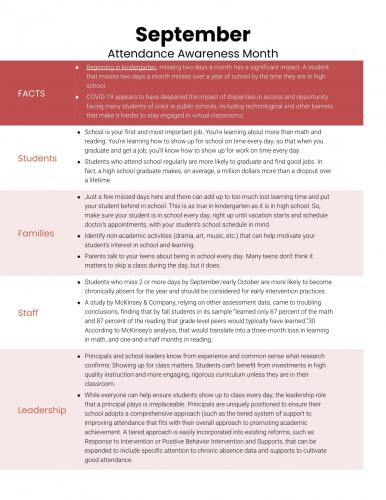 Did you know September is Attendance Awareness Month?

Here are some important tidbits from September's Flyer!
Students
School is your first and most important job. You're learning about more than math and reading. You're learning how to show up for school on time every day, so that when you graduate and get a job, you'll know how to show up for work on time every day.

Students who attend school regularly are more likely to graduate and find good jobs. In fact, a high school graduate makes, on average, a million dollars more than a dropout over a lifetime.
Families
Just a few missed days here and there can add up to too much lost learning time and put your student behind in school. This is as true in kindergarten as it is in high school. So, make sure your student is in school every day, right up until vacation starts and schedule doctor's appointments, with your student's school schedule in mind.
Attendance is IMPORTANT. CHECK OUT FLYER FOR MORE FACTS.

If you need any assistance that will make getting to school easier, please check out our district resources available to you here: https://care.scusd.edu/resources/